#1 Office Clean Outs & Services in Royal Palm Beach, FL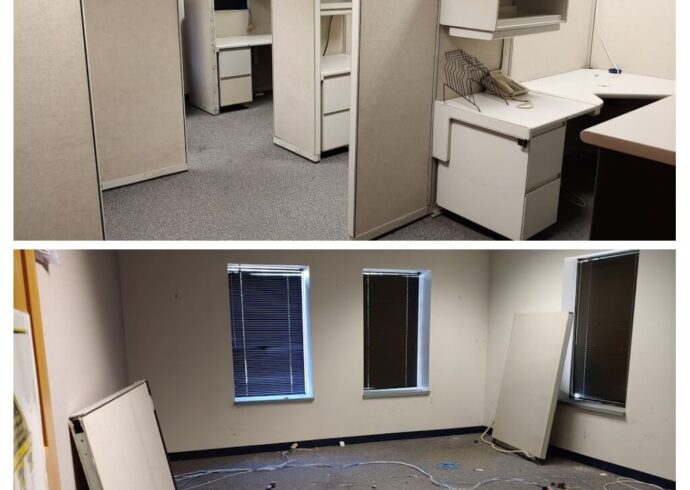 Royal Palm Beach Junk Removal and Trash Haulers has a team of professionals who will quickly load and transport any office furniture or appliances so you can relax. Enjoy having other people dealing with your office clean outs for you. So there's no need to worry about heavy lifting, disposal, moving the truck or loading it, and worrying about where the junk is going once the entire removal is done. We will also take care of the cleaning up in your space and ensure it is shining and ready for us. This is something that many companies are reluctant to do, but we want you to be all covered when you decide to rely on our team.
Your office will be clean and free of junk, waste, or other unwanted items you don't want to keep. We are the best company to clean out your office, and you can bet we will always aim to accommodate your needs.
All junk will be removed quickly, and you can be sure that we will take care of all your junk in the best transition centers and recycling facilities to reduce all the stress of the process on your side and keep everything green for the planet.
When we clean out an office space, all office furniture can be recycled. We can either move the items to recycling centers or donate them to the best charities according to their condition.
We are proud that more than 79% of the junk we remove isn't going to landfills. We don't send furniture or junk to landfills, so it should be at least 90% since the items are either recycled or moved to the best transition centers.
You can trust us to manage the process, and we will take care of every step so you don't feel overwhelmed or have to worry about every single detail.
How Our Team at Royal Palm Beach Junk Removal and Trash Haulers Deals with Everything
Our company offers a professional service to clean out all non-hazardous materials from your office. We can help with regular cleaning or if you have accumulated too much junk.
We offer top-quality services throughout the city, and you won't have to worry about anything.
Commercial customers often request that we remove office debris, old equipment, and appliances.
The question now is how do you get your staff to work with you in cleaning up the office and offering this service? It's easy to clean up your office with us. You can either call or email us or fill out our contact form.
It is possible to have work completed the same day, or you can schedule an appointment that suits your busy schedule. 
To schedule an appointment, you can call our friendly staff or go online. We will be there on time to remove any junk or other items. We will remove all junk and paper from your office, so it is ready to be moved in by a new employee.
Are you looking to remodel your office space? Are you open to other ideas? We are happy to help you with this process, regardless of why you came to us and what is the final purpose of the entire office clean out you're requesting from our team.
Here is a list of our services you can get at Royal Palm Beach Junk Removal and Trash Haulers:
---
Royal Palm Beach Junk Removal and Trash Haulers is the top company in Palm Beach County that offers the best residential and commercial junk removal services. Here's our additional services:
---