#1 Furniture Junk Removal Services in Royal Palm Beach, FL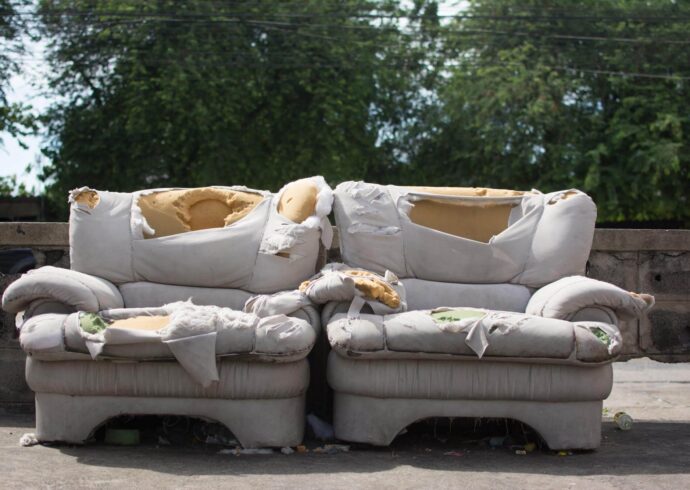 Although everyone loves buying new furniture or changing the old ones for a new couch or sofa. But things can be problematic when you have to deal with the actual process that comes before that: furniture junk removal. You need to consider how to dispose of them and get them to the appropriate recycling centers. So you don't just leave them on any landfill or in a corner without worrying about how the items will be picked up by a company or the truck assigned to the area—the latter won't usually pick it up, to begin with. 
You can have them damaged or new, but you shouldn't do it alone if they are heavy either, so you should worry about the entire process and how disposal should be done. This is one of the most difficult tasks in junk removal for this very reason and the fact that you need to lift the item and then transport it to the right place. 
You will need to have several people help you and someone who is knowledgeable about garbage disposal. Royal Palm Beach Junk Removal and Trash Haulers can help you to remove your furniture. During the process, we will also make sure it goes to someone else via recycling, donations, or other means, and rest assured, we don't like using landfills for the removal and disposal.
We can help you with junk removal as well as make sure your furniture is properly disposed of. We will pick up your furniture and load it onto our trucks, and ensure you don't have to move a finger during the process. We will then transport your furniture to one of our many charity or recycling centers that we have or have partnered with.
Now, furniture removal costs will be affected by the number of items, their space, and size. We cannot provide an estimate or make recommendations without knowing all the details. It also depends on how much work it takes to complete the move and how you need us to handle the removal.
We offer a free estimate without obligation for this very reason, so you can contact us and ask for a quote without hesitation.
Our Team Is Here to Support You
How you dispose of junk, including furniture, will depend on where it is located and whether they have the capacity to take it away. In the case of Royal Palm Beach, you cannot usually dispose of the items using municipal services since they are unable to get all the junk due to their trucks and equipment.
If you contact us immediately, our team will save you all the hassle and ensure the items are moved properly.
All your furniture can be moved quickly and easily by us. We do all the hard work so that you can concentrate on what we can recycle, donate, and other disposals that are better suited for the environment.
For more information, contact Royal Palm Beach Junk Removal and Trash Haulers and let us know how we can help.
Keep in mind that our team can offer furniture removal to both residential and commercial property owners, so we will be there regardless of where you have the furniture and the number of items you need us to remove.
Request your free estimate today by filling out our contact form!
Here is a list of our services you can get at Royal Palm Beach Junk Removal and Trash Haulers:
---
Royal Palm Beach Junk Removal and Trash Haulers is the top company in Palm Beach County that offers the best residential and commercial junk removal services. Here's our additional services:
---