#1 Home Clean Outs & Services in Royal Palm Beach, FL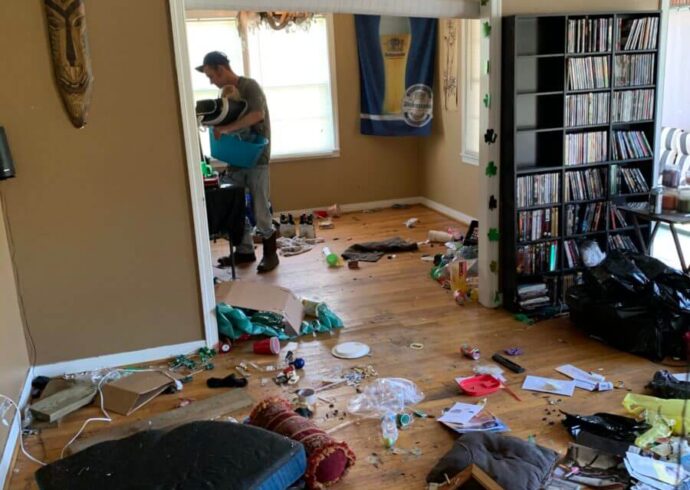 You may need to clean out a messy house and work with all the junk you have in it to finally move in, give it to someone else, or maybe just have it decluttered after a long time. This task requires qualified professionals in most cases due to the amount of work involving house clean out. We can handle any job for you. You can be sure that we will provide the best service for your home clean out if you call Royal Palm Beach Junk Removal and Trash Haulers. This is not about meeting your needs but also about making sure that you are able to use the rooms and property in the best possible condition and won't have to worry about decluttering it again anytime soon.
Our services can be used to clean out one room or the whole house, so don't feel pressured about relying on us only if you need a bedroom, bathroom, attic, or specific room only, thinking that you need to come to us for the entire house. 
We have the staff and equipment to accomplish the job, and we do it based on your needs. 
We then dispose of or recycle the items efficiently. Rest assured that the cost of the service will be adjusted to the work required and the space we clean out.
Our commitment to excellent customer service, reliable performance, and environmentally-friendly practices make us the best-rated junk removal company, and we are quite proud of the clean outs we can offer you in every aspect.
Our cleaning services for the property are simple to use. We will give you a fair price and stick to it. Our licensed and insured team arrived uniformed and equipped with large trucks that can transport bulky items, and large quantities of garbage will arrive and work on the entire disposal for you.
Everything is cleaned up to the ground. All junk and other materials will be removed according to the law. We will also recycle as much as possible and, if necessary, dispose of it in designated transition centers.
We Are There for Any Request
We can help with a small area of your home or just one room—as mentioned earlier. This is cheaper than hiring the entire service, and you don't have to worry about making any investments or paying for the labor.
When we arrive, point the way, and we will take care of the rest. Your team of friendly professionals will remove all rubbish so you can focus on the task at hand and work on anything else instead of the cleaning itself.
We are proud to offer high-quality customer services to those going through difficult times or simply because they want to clean out their home and get rid of all the junk. Any unwanted items that are left on your property can be removed by us.
Our team can offer a quick and economical solution for tenants who have left behind junk and possessions as well or if you are a new homeowner trying to declutter an entire property.
Contact us for a free estimate or to have home clean outs done by our staff. A customized estimate will determine how each aspect of house cleaning is done, including how to dispose of junk and other unwanted items with our team at Royal Palm Beach Junk Removal and Trash Haulers.
Here is a list of our services you can get at Royal Palm Beach Junk Removal and Trash Haulers:
---
Royal Palm Beach Junk Removal and Trash Haulers is the top company in Palm Beach County that offers the best residential and commercial junk removal services. Here's our additional services:
---